Gladys Benitez's interview with MauConnect
June 24th, 2022
Mauconnect Press
Popular wisdom wisely states that "whoever does not live to serve, does not serve to live," and those who do not know how to turn their personal success into something that benefits others, pass through life like a wake in the sea, leaving no trace. Our award-winner, Gladys Benítez, is a shining example of how to grow and give. As a child, Gladys dreamed of becoming a lawyer, and though she thought she would dedicate her talents to interior design, fate and the guiding hand of God steered her towards a path of service.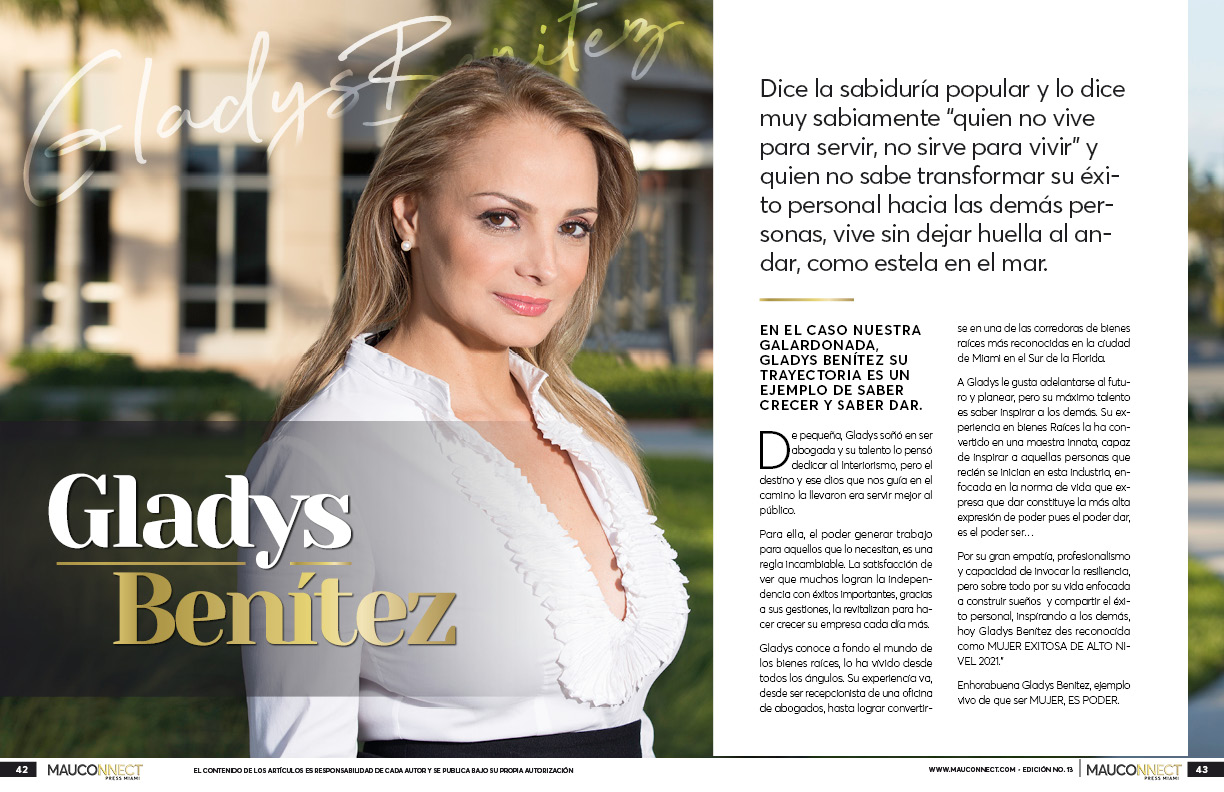 In the case of our award-winner, GLADYS BENÍTEZ, her career is a testament to her capacity for growth and her willingness to give back. As a child, Gladys harbored a dream of becoming a lawyer, and initially thought she would dedicate her talents to interior design. However, fate, and the divine guidance of a higher power, led her to a path that enabled her to serve the public in a more meaningful way.
For her, creating opportunities for those in need is an immutable rule. The joy of witnessing countless individuals attaining autonomy with remarkable accomplishments, due to their dedication, invigorates her to make her enterprise flourish even further each day.
Gladys comprehends the sphere of real estate in depth, she has experienced it from all perspectives. Her experience ranges from being a receptionist in a law office to becoming one of the most distinguished real estate brokers in the city of Miami in South Florida.
Gladys enjoys anticipating the future and plotting, but her greatest skill is knowing how to motivate others. Her experience in Real Estate has made her an innate instructor, capable of inspiring those people who are just beginning in this industry, centered on the quality of life that declares that giving constitutes the highest manifestation of power, since being able to give is the power to be…
For her great compassion, professionalism and capacity to invoke resilience, but above all for her life centered on constructing dreams and sharing individual success, motivating others, today Gladys Benitez is recognized as a HIGH LEVEL SUCCESSFUL WOMAN 2021. Congratulations Gladys Benitez, a living demonstration that being a WOMAN IS POWER.
What is the reason for the fact that women are currently gaining more responsibility and power, like a 3.0 mega trend?
Every day, more and more households are being led by single mothers, who are tasked with the daunting responsibility of providing their children with economic stability and a brighter future. It was this realization that inspired me to work hard and strive for success, not only for myself, but for my son as well.
When was that moment when you realized that you had managed to excel in your area of ​​interest?
When I was awarded the prestigious "Top Producer 7 Million plus Award" in 2004, just two years after I had started in the real estate business, I didn't see it as a great effort; I simply did what I loved—selling houses and helping people.
What does it mean to you to be a leader?
Being a leader is not simply about having the capacity to help others reach their highest potential, but about having the insight to empower them to discover their own greatness. By providing guidance, resources, and support, leaders can guide their team to success and help them to uncover the extraordinary potential within themselves.
What has been the pivotal moment and decision in your career that changed your life and led you to success?
The pivotal moment in my professional life was when I understood that the only way to reclaim all that I had lost was through my own hard work and the support of my beloved mother. I was determined to make the most of the opportunity, and I knew that with my mother's guidance, I could make my dreams a reality.
Any advice for the woman who is looking for the way to excel, undertake or has the will to be a leader?
Do not limit your thoughts; they do not let you grow. Always be willing to take on all opportunities that come your way, as long as your values remain uncompromised, and do so with a desire to serve.
What is your favorite phrase or thought or the one that you consider to be motivating in terms of entrepreneurship or achieving the goals that someone sets for themselves?
Living life with intention and purpose, committing to your work with enthusiasm and dedication, because you love it and it shows in your conviction and persuasive efforts.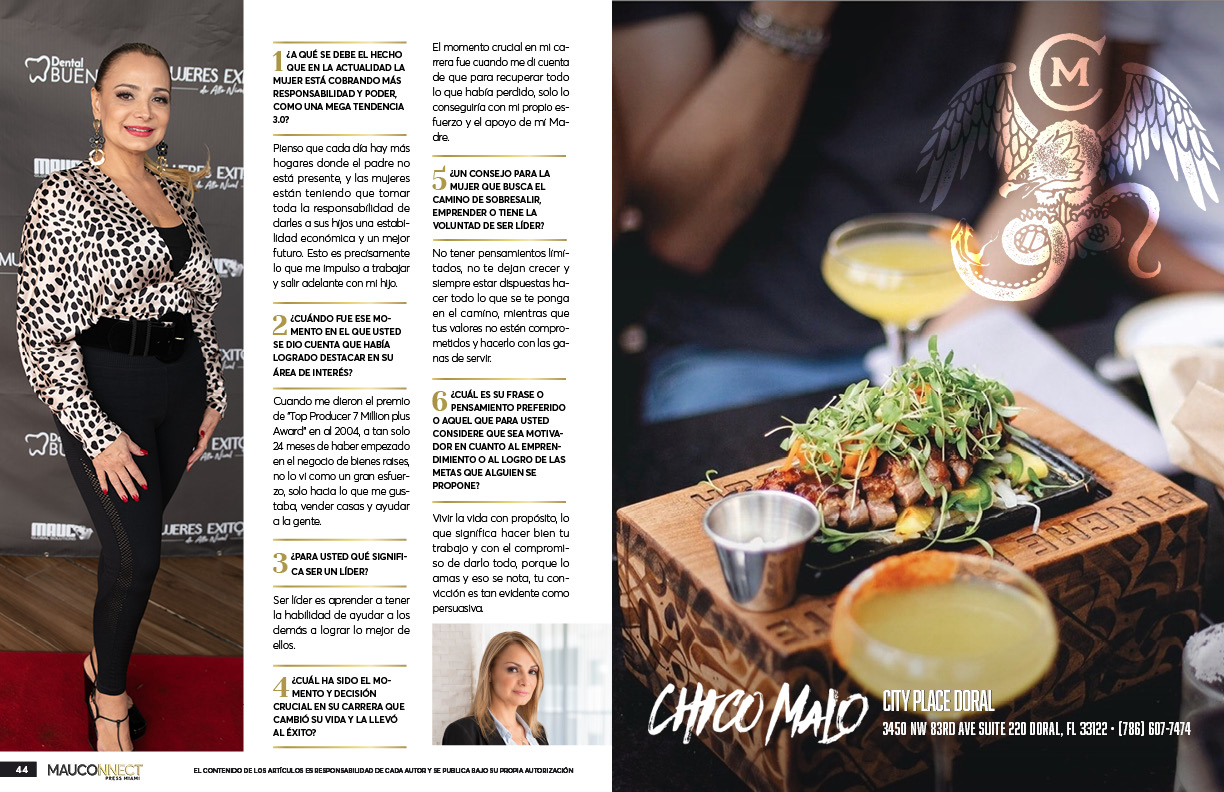 View original Spanish article at https://www.mauconnect.com/post/glady-benitez